TINGATINGA ON THE MOTORBIKE
This short article is a reminder that the son and the daughter of E.S. Tingatinga are living among us. I have observed that the children of E.S. Tingatinga have been kept away from the art comunity. Now Afrum would like to correct it and bring you the other side of the "Tingatinga coin". Daudi Tingatinga is member of Tingatinga Arts Cooperative Society and if you visit us, you will find Daudi far on the right side in the Tingatinga studio, next to the painter Mwatuka.
Daudi Tingatinga sitting on the Tingatinga motorbike. Notice his lion painting above the front wheel. We are about to visit Daudi´s sister Martina Tingatinga.
You are not alone who may be surprised to see a living or - on this photo - sitting Tingatinga. How much must be surprised those who use his name for a bar in New York, a festival in Belgium, a lodge in Tanzania, a company in California? Isn´t he a living legend?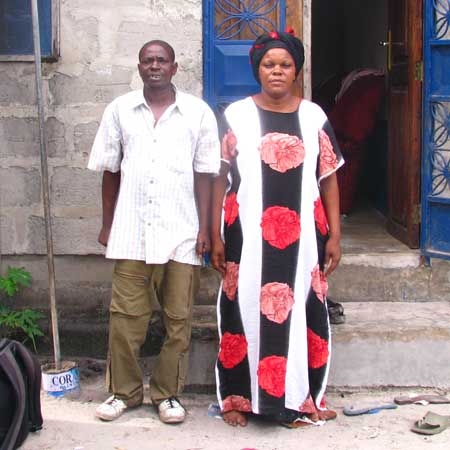 Daudi Tingatinga and Martina Tingatinga, the living legends
Daudi is not the only child of Edward Saidi Tingatinga. He has a sister Martina. When their father died in 1972 they were very small. Mzee Lumumba who once took Edward Saidi Tingatinga to Dar es Salaam helped the Tingatinga family again. It was him who tought Tingatinga to paint. Thanks to mzee Lumumba the world can enjoy the paintings by the son of the famous father Edward Saidi Tingatinga. And he is a very good painter.
For more articles about Tingatinga see
Author: Daniel Augusta