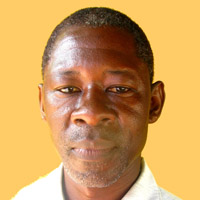 Mbwana Sudi
Mbwana Sudi was born in 1960 in Mchungwa village in Coastal region of Tanzania. He is Zaramo by tribe and is one of few painters of the Tinga Tinga Cooperative (TACS) who is not related to the Tinga Tinga family. He learned to paint from his friend Saidi Chilamboni. It was so that the parents of Mbwana rented a room to Saidi Chilamboni (in eighties) in Dar es Salaam when he came from Nakapanya to paint Tinga Tinga paintings.
Mbwana Sudi was the Chairman of TACS during the period when TACS was commisioned by Tiger Aspect to illustrate the animations for Tinga Tinga Tales, film series owned by Walt Disney and BBC. Mbwana was one of 5 illustrators and for that purpose he visited the production studio in Nairobi where he stayed for several months in 2009.
His paintings were exhibited in National Museum of Tanzania. He began to paint in 1978. He likes to paint different animals like zebra, elephant and birds. At the moment he lives in Mbagala in Dar es Salaam.
Previous painter | Next painter | List of Tingatinga painters