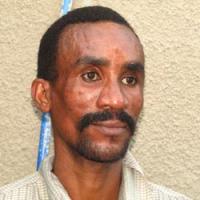 Mr Sey
He was born in Musoma town in 1971 and came to Dar es Salaam in 1995. He lived in the home of Mr.Mocha, who taught him to paint. He since took on his own apprentice, Mitole. He had three students.
When he first came to Dar es Salaam, he bought exercise book and started to paint in it. He sent it to Mocha. And then Mocha told him: come I will teach you to paint. Don't worry about your life, I will help you.

Then he rented a room in Msasani, got a woman, had 2 children, Salum and Adija – twins. He drank too much beer and the women left him. After he went to Zanzibar and there he drank beer. Sey drank very much beer and after drinking he started to argue. After one incident he went to jail for 5 years. After the jail time he left the beer drinking.He wanted to paint in the jail but he was denied. He painted on the walls at least.
After jail he came back to Dar es Salaam. He started to paint. It was hard time because he had nothing. He was depending on selling the paintings. Later he was diagnosed for HIV and cancer. He retreated to his home village where he looks for traditional cure.