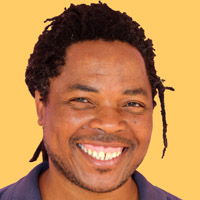 Maiko Kapunda
Maiko was born in Nakapanya, south Tanzania and is thus relative to E.S.Tingatinga. However he moved away from family and settled in Mto wa Mbu in Manyara. Manyara is in northern Tanzania near the Serengeti National Park and the Ngorongoro Creator. Few Tinga Tinga painters came so far. He is a kind of star in Mto wa Mbu as he is one of very few painters on this touristic spot to be exposed to international visitors. To be clear, the place is frequented by many painters, but most of the are fortune seekers and not serious artists. The northern region of Tanzania is is dotted by many lodges so it is not hard to get customers.

Maiko uses thick brushes and most of his themes are the traditional animals in Tinga Tinga style. However, one style is very unique. It is the Australian Aboriginal style which he translated in the Tinga Tinga style. And especially the creatures resembling cosmonauts. it was all inspired by the Australian Aboriginal style.

Maiko visited once Japan and it seems that the visit changed him to the better. He says himself: "When I was little, I started painting using cinder. When I came back from a trip to Japan, I started to paint seriously."