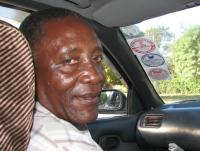 David Mzuguno
David Mzuguno was born on December 13th, 1951 in the Kilimanjaro region in Tanzania. His first paintings saw the light of world in 1967. Due to the third prize winning of the Esso Calendar Competition he becomes known just two years later – in 1969. From 1973 until 1979 Mzuguno earned his living as a mining prospector.
During that time he kept painting and trying to sell his paintings at different hotels. Seven years after secondary school graduation in the year of 1979 he stops his realistic painting styles and decides to join Tingatinga artist group with the purpose of acquiring painting skills. He saw prosperous future in Tingatiga style as customers were less and less interested in realistic style. He stayed for ten years with Tinga Tinga Arts Co-operative Society (TACS) and due to his knowledge of English generated bigger sales of his paintings than other painters. Mzuguno produced his art work from home in Kibaha and later Mlandizi
In 2009 David Mzuguno was invited by the Shenzhen Fine Art Institute to participate in the African Artist Residence Program in China. We may regard his trip as a breaking moment which has introduced Tanzanian art to the most populous country in the world. He was well accepted. For more information about his trip to China read the articles bellow.
David Mzuguno passed away on 6th June 2010, just a few months before he was about to attend Tinga Tinga Exhibition in Copenhagen in Denmark organized by Thorup Gallery. He left 13 children behind him and 4 of them are skilled painters today. They established Mzuguno Studio in Mlandizi, 70 km away from Dar es Salaam, the commercial hub of Tanzania.
You can see his art works from Mzuguno Studio on www.tingatingastudio.com
Previous painter | next painter | List of abstract painters

BUY MZUGUNO PAINTINGS ON TINGA TINGA STUDIO
MZUGUNO OPENS THE DOOR TO CHINA
MZUGUNO CLIMBED THE GREAT WALL OF CHINA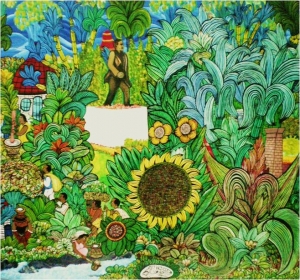 This painting was painted in China and depicts The Statue of Deng Xiaoping