IMPRESIVE MURAL TINGATINGA BY MRUTA
Since I started the Tingatinga exhibition in Copenhagen a few people told me about big mural painting on one of Copenhagens houses.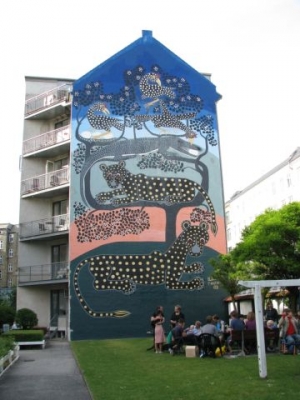 It was painted by Hashim Mruta in 1991, a former policeman belonging to the first generation of Tingatinga painters. I broke to private garden to take better photo. Unfortunatelly Mruta died in 1998, he was very popular among the residents in surrounding houses.... If you want to paint something similar in your country, visit us at our Tingatinga Studio to organize the mural program
The house is not far from Main Railway Station. Go to Istedgade and take bus number 10 or go by foot ca 1-2 km until you come to Sankelmarksgade.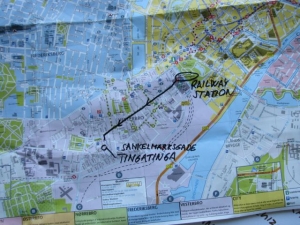 Author: Daniel Augusta