MZUGUNO OPENS THE DOOR TO CHINA
MZUGUNO´s SPEECH IN SHENZHEN FINE ART INSTITUTE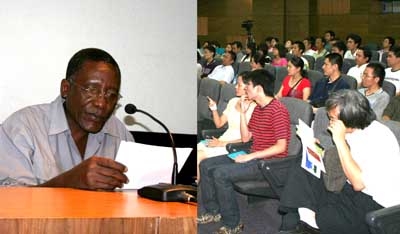 David Mzuguno at the Shenzhen Fine Art Institute
First, I would hereby give all my thanks to all members of Shenzhen Fine Art Institute, the Ministry of Culture of China as well as the Ministry of Culture of Tanzania for allowing me to stay for a period of two months as an artist in residence. It is indeed an honour to be here among you and to express my feelings and experiences about this residence.
I really enjoyed my stay here especially the fact that I encountered no disturbance that could have hindered my creation. I also liked all the visits that we went to, such as visits to famous museums, art galleries, ceremonies and shopping places.
I appreciated the fulfillment of the agreement of the residence workshop which shows the professionalism of China in all aspect.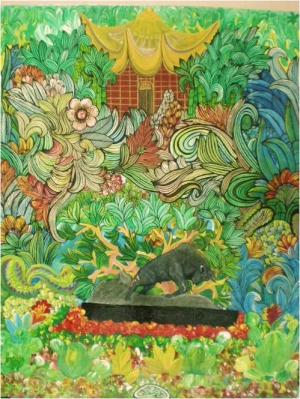 The Garden at the Forbidden City. In front you see the symbol of the Shenzen City
Referring to my creation process, I first wanted to learn the difference between China's culture and Fine Arts with that of my art culture in Tanzania which depicts mostly Tingatinga paintings.
Tanzania art also includes contemporary sculptures made especially by Makonde tribe. Those sculptures are taken from bark of trees and roots which are carved and transformed into beautiful artworks. Furthermore, in women sculptures too we can see their mastery in wood carving.
Apart from Tingatinga style, other artists do produce many interesting paintings and tend towards semi abstract art and surealism.
My paintings depict plants, people, forests, village sceneries and animals of all kinds in a linear way. I noticed that traditional ink paintings reflect the technique of linear forms that I usually use in my paintings. Somehow, to my opinion, there is a certain similitude in Chinese traditional style and my style. However, I must praise the quality and fantastic mastery of Chinese artworks which show very fine details and soft lines making me even more eager to learn from them and overcome my limits.
I have the ambition that when I shall return back home, I shall insist and convince my fellow artists of Tanzania to keep on working hard together. This goes in line with my endeavour to reach higher peak of creations so that our friends, the Chinese friends and artists who welcomed me, could appreciate and admire our art.

Thank you for your attention.

DAVID


BUY MZUGUNO PAINTINGS ON TINGA TINGA STUDIO
Author: David Mzuguno